Corporate Headshots, Personal Branding Photos by Sumico Photography
Gold Coast | Brisbane | Logan
Headshots & Branding Studio in Main Beach on the Gold Coast
At Sumico Photography, we understand what it takes to run a successful business. You need professional images that perfectly represent your business and your brand. We can produce stunning corporate headshots for use on your LinkedIn profile, speaker portfolio, book cover or company profiles. You may need images for marketing material such as business cards, brochures, flyers or pull up banners. Perhaps it's professional headshots for your acting or modelling portfolio, or even to add to your dating profile. We can help!
With 18 years of experience in graphic and web design, we know how to take the right photos to suit each particular outcome and can provide them in whichever digital format you require for the job. You may need high resolution images for printing, posters or even billboards. On the other hand, medium sized, low resolution images that are square cropped are ready for your social media. For your website you'll need small sized, low resolution images to ensure a fast download and a better user experience. We're happy to advise on the correct image, file type and resolution to suit your individual need.
Your headshots will be taken at Sumico Photography studio on the Gold Coast where you have the choice of professional studio lighting, an outdoor shoot with natural lighting or a combination of both.  Let us know if you can't make it to the Gold Coast for your personal branding photos or if your business requires corporate headshots for several people or your whole team.  We will be happy to travel to you to do the photo shoot anywhere between Brisbane and the Gold Coast. There may be an additional cost depending on the location.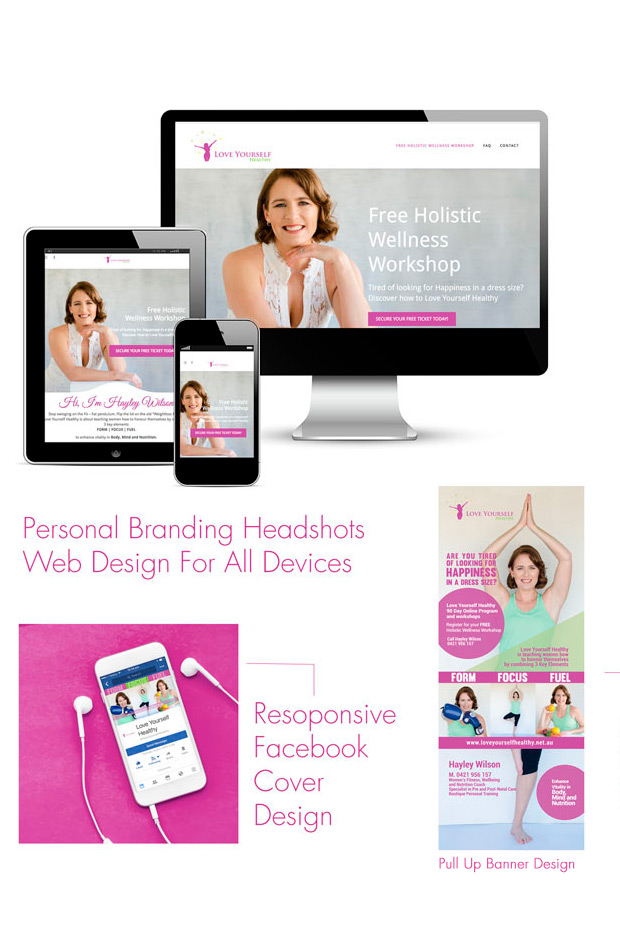 Sumico Photography Studio Gold Coast
Address: 8B, 15 Tedder Avenue, Main Beach Gold Coast
Phone: 0425 261 729
PROCESS 1: BEFORE THE PHOTO SHOOT
Before your corporate headshot or personal branding photo shoot, we will make a time to discuss your needs, how you want to be photographed and how you can get the best out of the photography session.
We'll talk about:
How many people need to be photographed?
The purpose of your headshots or personal branding.
Your business and your brand – colours, feel, goals, mission etc.
What the photos will be used for e.g. large format prints, flyers, posters, business cards, pullup banners, website or social media.
How you would like to be photographed – we can guide you on this.
What to wear – we suggest up to three outfit changes.
Hair and makeup – whether you will do your own or book our hair and makeup professionals for a total makeover.
Location ideas e.g. studio, café, beach or at your business premises.
Setting the date for your photo shoot.
PROCESS 2: PHOTO SHOOT DAY
On the day of your photo shoot you'll enjoy a relaxing, fully guided photo shoot with professional photographer Sumiko Eyears. Don't worry if you're uncomfortable in front of a camera. Sumiko knows how to put you at ease and capture photographs that bring out your best you! You can change outfits up to three times and if you're having a makeover with our hair and makeup professionals, allow an additional 1 to 1.5 hours.
PROCESS 3: REVIEWING SESSION
Once your photos have been professionally edited, it's time for the photo review. You can do this either online or at Sumico Photography studio on the Gold Coast. Sumiko will walk you through your 20 final images to discover which you want to use and for what purpose.
As a graphic artist, web designer and online marketer Sumiko can offer advice on which images will work for different applications and can provide graphic design services if you require.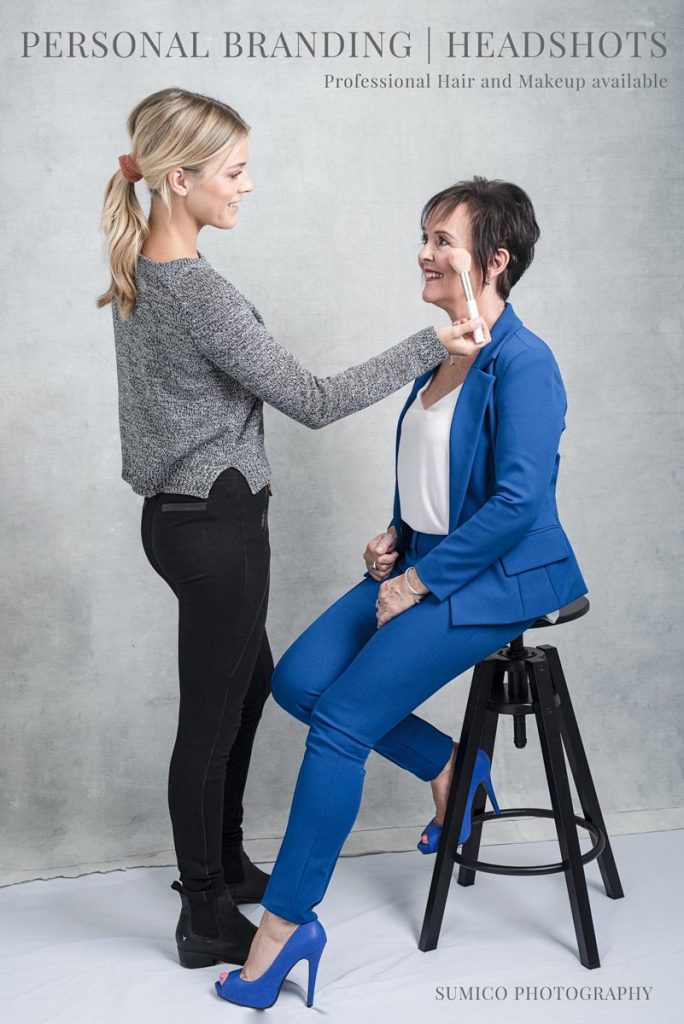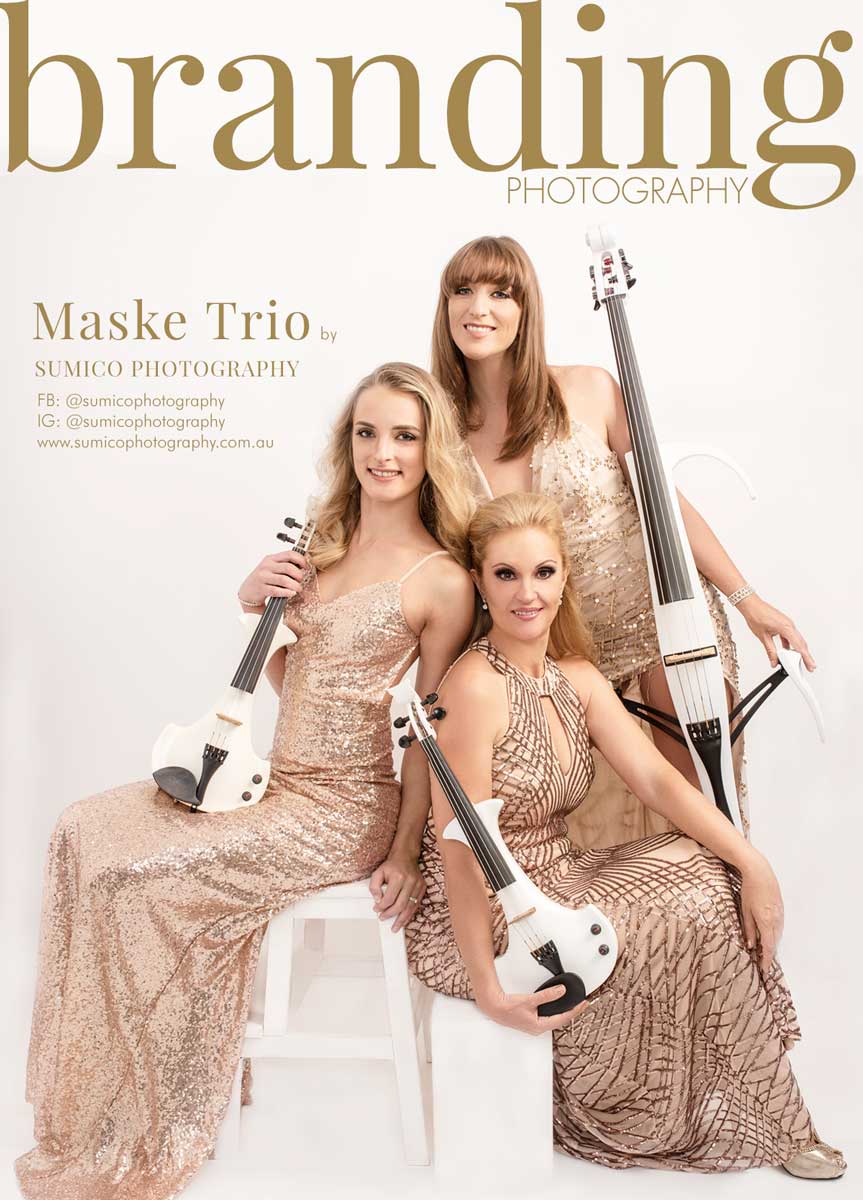 How much does it cost?
Headshots Prices: from $550 with two images and a Booking fee of $165.
Business Headshot packages include:
Complimentary pre-photoshoot consultation
30-45 minute photography session
Up to 3 outfit changes
You choose your favourite 2 shots for post-production
Comprehensive editing and retouching process.
2 digital images in high and low resolution, and square images for social media (LinkedIn, Facebook, Twitter, Instagram) profile.
Hair and Makeup Artists can be arranged in advance at extra cost.
Location: Sumico Photography Studio Gold Coast or your preferred locations *In Some locations, a travelling fee may apply.
Note: We have packages 10, 20, 30, 50 images for personal branding needs.
If you require professional design services, we would love to help. We can create everything from personalised Facebook cover images or graphics for stand-out social media posts right through to a landing page for a special campaign or your complete website. We can also design your offline marketing material such as business cards, flyers or stunning pull up banners – and can organise production as well.
You may like a short promotional video using your images, reel or video footage, or a montage of both. We can provide ready-to-go graphics and videos to publish straight to your social media.
What Shar said about her experience with Sumico Photography
"I wish I could give her more than just a recommendation!
The time, dedication, care and thought that went into every one of my photos, was second to none.
And she is just the sweetest person whom I felt very comfortable to open up with.
This makes all the difference when doing a photo shoot and I've done many over the years.
As a TV Show host and magazine and book publisher, how I'm captures makes all the difference. I didn't want a cold headshot corporate shoot, I wanted someone to capture me in my home so the photos are relaxed, happy and will appeal to my target audience of women.
Sumi did an amazing job and I highly recommend her. As long as she still has time to do 2 shoots a year for me, you can use her too!"
Shar Moore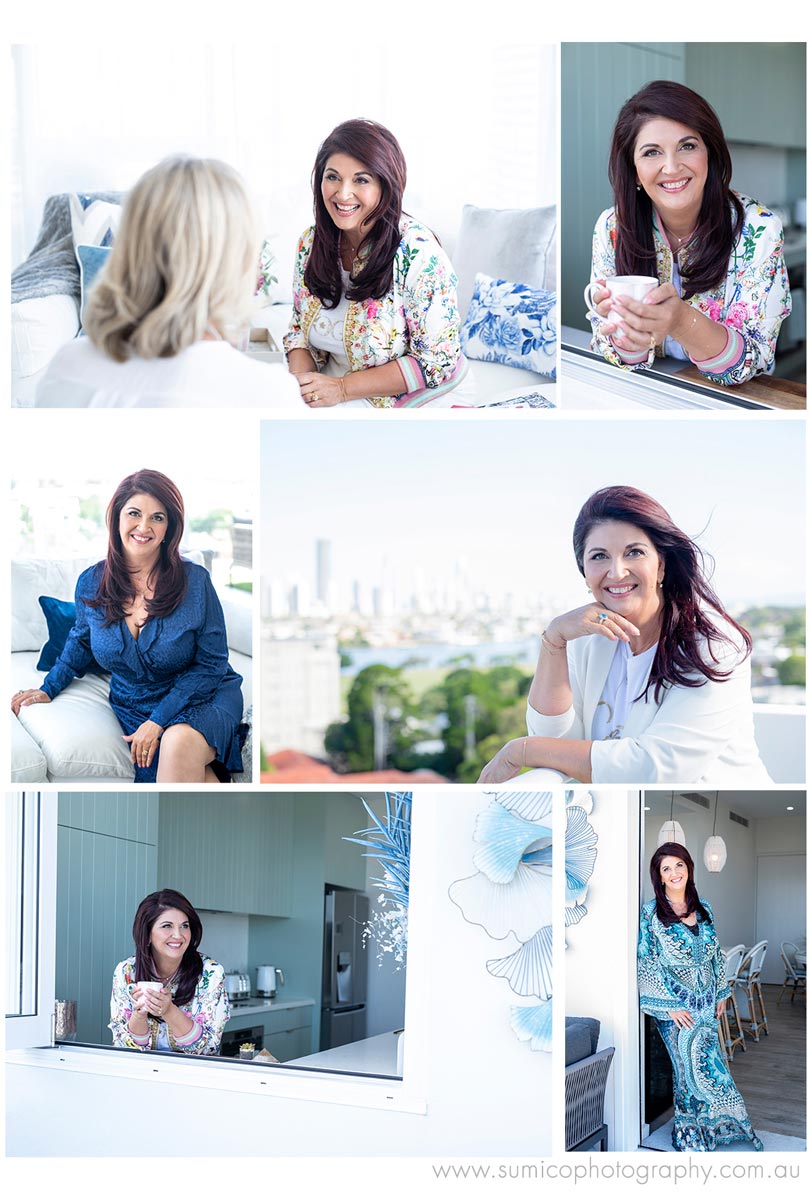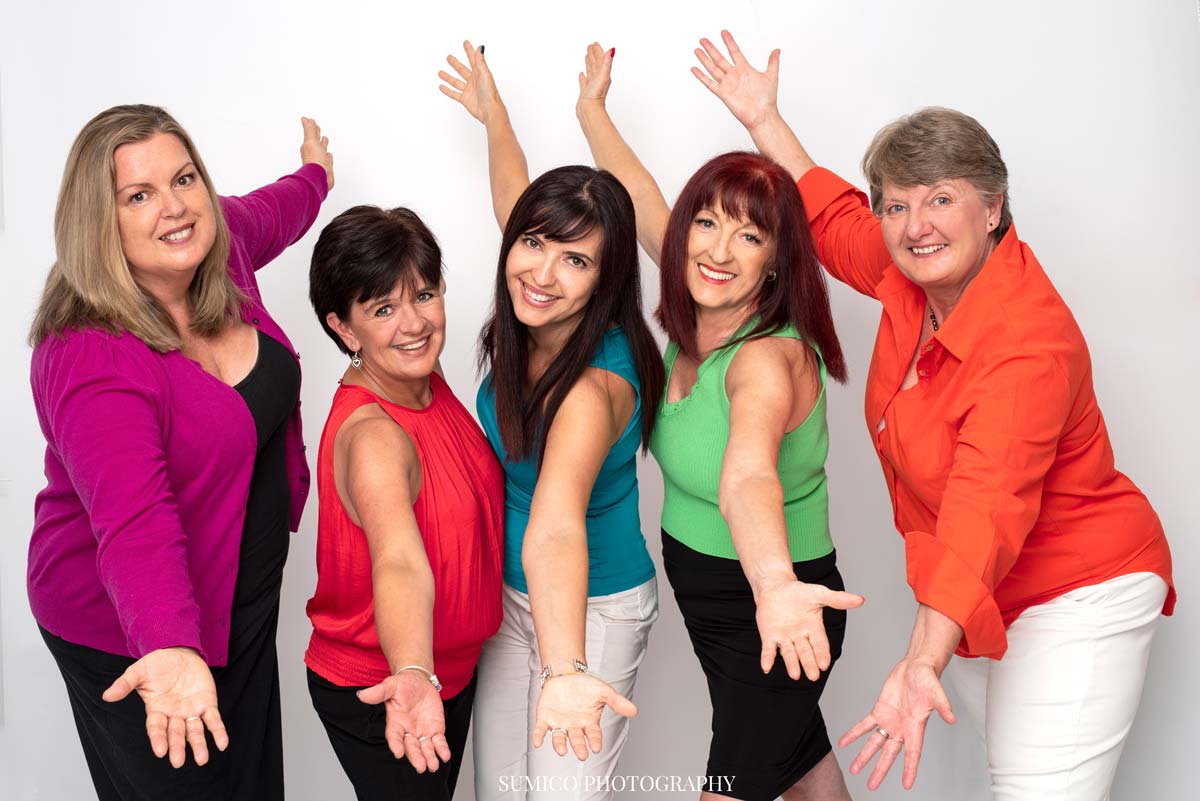 I needed photos for my individual team members as well as I thought it would be fun to have group photos as well. We contacted Sumi a week before we wanted them done and she made it happen. In just an hour of shooting we got 5 individual people photographed as well as group shots in 3 different outfits. It was super easy and fun and she got the photos to us 5 days later. I love a fast turnaround and she was lovely and easy to work with. Thanks Sumi!!!!
Natasa Denman
Ultimate 48 Hour Author
What Amy said about her experience with Sumico Photography
"My name is Amy, and I've been working on building my new website for a coaching business.
I decided to book a photography session with Sumi as needed a particular look to match the website.
I'm so glad I booked Sumi as she listened intently and also was so informative and help navigate brilliant ideas that would compliment my site.
Sumi goes above and beyond and added so much value for the experience and made me feel so comfortable as I'm quite shy in front of cameras. She is a master behind the camera and her passion to make it all formulate together in one is gold!
I'm so happy with all the photos, that I couldn't help but buy extras as more of memory moment to keep.
Brilliant all round, highly recommend Sumi if anyone is thinking of getting a photo shoot done. She also had all the editing done in such a quick timeframe.
Sumi is dedicated to the max, to see your vision come to a reality. "
Amy McCrohon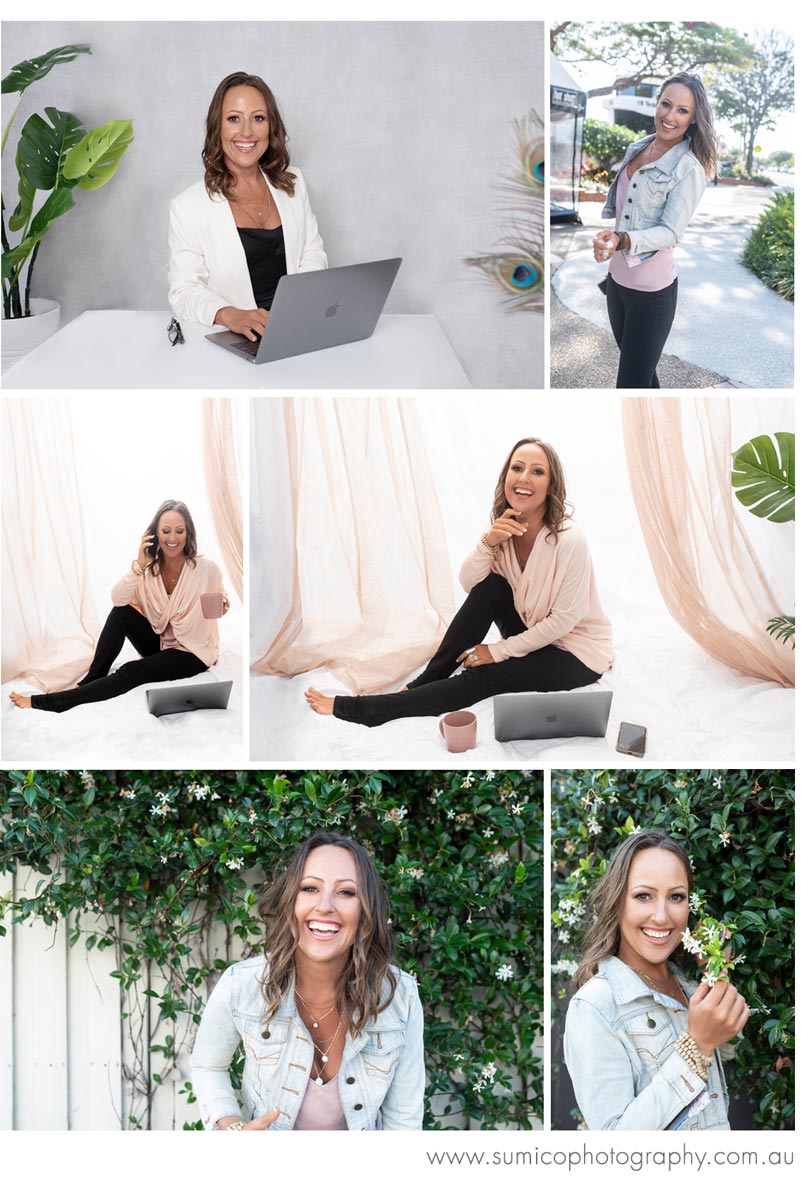 Sumico is a pleasure to work with. She makes you feel at ease and is professional, organised and well prepared. Our business personnel photoshoot was fun and easy with a great result. Sumico is also worked on some excellent facebook pages and website. She has an insight into what businesses need with grace, speed and skill that shows she is proud of her work. thank you Sumi

Headshots, Teamshots | Vicki

I am incredibly pleased with the wonderful photos Sumi created (have to say created as it was a lot more than just taking photos) for me following a fun photo shoot for new business head shots.
What particularly impressed me was she caught my personality so well in these photos.
I wanted natural, professional photos and with the excellent makeup work of Andrea King and Sumi's warm and encouraging way, it is exactly what I got.  – Janeen

Sumiko is an amazing photographer and has we have worked together on many occasions. Sumiko is extremely talented and has the ability of making her clients feel at ease and wonderful. Seeing the completed products is breathtaking and you realise how special the photographs are. Sumiko has also done website work for me and has helped immensely. I highly recommend Sumiko EYEARS and her business.

Portraits, Headshots, Personal Branding | Moana

Sumico is so talented made me feel comfortable relaxed and having fun to be able to dance while I was being photographed was a great feeling. Thank you for the fabulous captures in my photos. I can recommend Sumico for the photography you will not regret.

Headshot & Portrait| Caroline

Brisbane Southside

I had profile photo shot and maternity photo shoot. They came out fantastic looking.
I love her imaginative photo as well as video. Thank you very much for your effort.

Headshots, Maternity Portrait | Hitomi

I asked Sumiko for some professional profile photos to use on the web page I am making for my art portfolio. Not only did she make me feel so comfortable in my own skin she made it fun and the outcome was just lovely and very hard to choose from. All the photos were wonderful. I can highly recommend Sumiko for you photography needs. Especially with formal season coming.
Thank you all for your lovely comments on the photos. I had a great photographer. An artist in her own right.

-Artist in Southside of Brisbane

Professional Profile Photos | Tracey

Brisbane Southside

I really enjoyed Sumico's photo session for my glamour and business portraits. Sumico made me relaxed environment during the session as it was my really first time doing so. My daughter particularly loved the glamour portrait. I had lots of nice comments on business portrait from my colleagues as we use personal photo for internal communication tool. Thank you so much Sumico Photography!

Business Headshots | Glamour

I've had professional photographs taken before for corporate use but have never been happy with the results. Sumi has really managed to capture me in a professional and natural way that makes me feel unique and special when I look at them. I'm very pleased to use the images on my LinkedIn and professional profiles.

Business Woman Portrait | Sunshine Coast

Sumico's services exceeded my expectation. Thinking we would just manage to take a few quick snaps, Sumico went to a lot of trouble to make sure we had the right photos for the right purpose. She understood what I needed and went to the trouble of trying different ideas and looks. What Sumico delivered exceeded my expectations with a very professional result at a very affordable price, all in my own environment and at my convenience.

Business Portrait | Logan
Personal Branding Gold Coast Testimonial by Dr. Aimee Catalan
Business Photography | Headshots, Team shots, a Short Video on site
Personal Branding on the Gold Coast for Bec
Personal Branding Location Shoot Brisbane
Testimonial | Personal Branding Package
Personal Branding Package - Portrait, Web Design, Facebook Cover and More.
Lifestyle Personal Branding Photoshoot for Magazines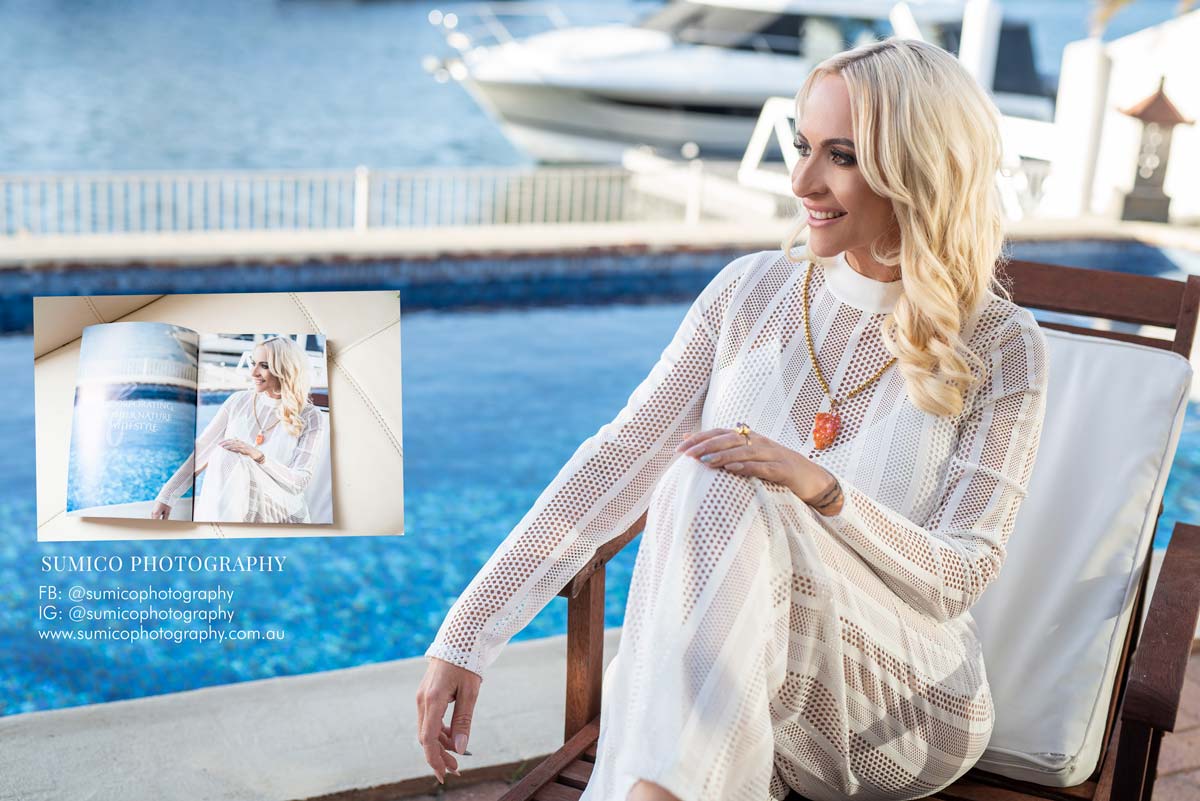 Your success is our success. We take pride in the quality of every headshot we take, every image we produce. We take your business and your personal branding seriously and always aim to provide the best possible multi-use images that professionally represent you and your business. We also want your photo shoot experience to be an enjoyable one – something you long remember.
For Bookings, please call Sumi on 0425 261 729 or fill in the form below.
Share this page