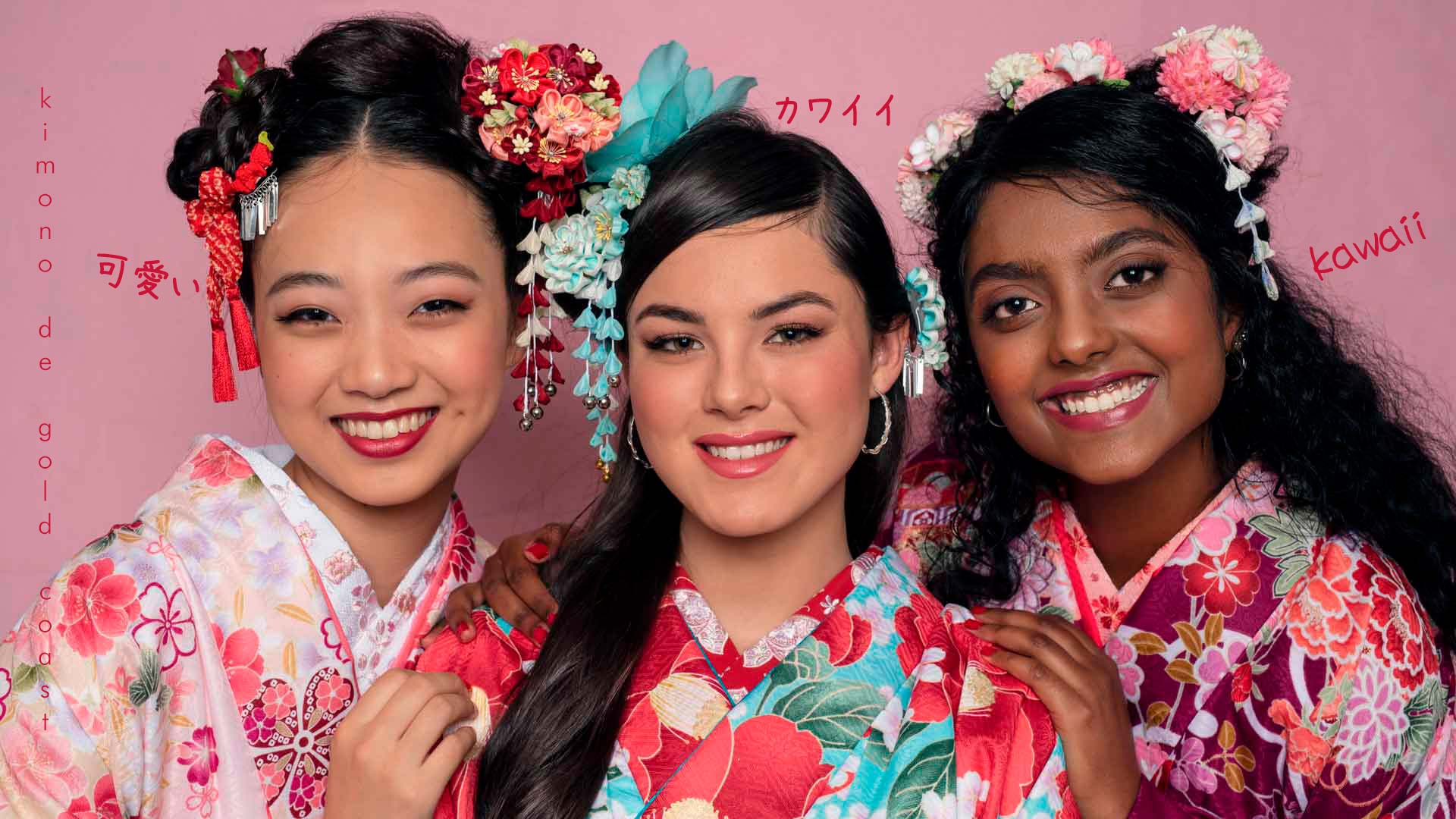 An authentic Japanese cultural photo shoot experience on the Gold Coast
by Kimonoya in Brisbane and Sumico Photography
Kimono de Gold Coast is an authentic Japanese cultural photo shoot experience for High School or University Graduates, Coming of Age celebrations or as a family portrait. A collaboration between Kimonoya in Brisbane and Sumico Photography, includes stunning rental kimono fitting and styling by Sachiko Hinze, professional hair and makeup and photo shoot with Sumiko Eyears.
Sumico Photography is proud to collaborate with Kimonoya in Brisbane, an authentic kimono rental and styling service in Brisbane to create Kimono de Gold Coast, a special celebration package for graduating high school students, university students or for coming of age celebrations.
Give your daughter the gift of a Magazine Style Kimono Portrait. It's a photo shoot like no other and one that is rarely offered anywhere outside of Japan. She can enjoy this wonderful experience with her friends, on her own or with family. It's a great idea for schoolies as Sumico Photography studio is located at Main Beach on the Gold Coast.
Your daughter will dress up in a stunning, authentic Japanese kimono and be pampered with professional hair and makeup styling as well as hair ornaments and Japanese umbrella to complete her transformation. Then the photo shoot begins with Sumiko Eyears, internationally awarded portrait photographer from Japan.
She might like to have this moment to herself or bring her closest friends for a fun time they will long remember. Your family might also like to take part for some memorable family portraits with professionally fitted, quality kimonos for everyone.
Hakama Style (Standard package)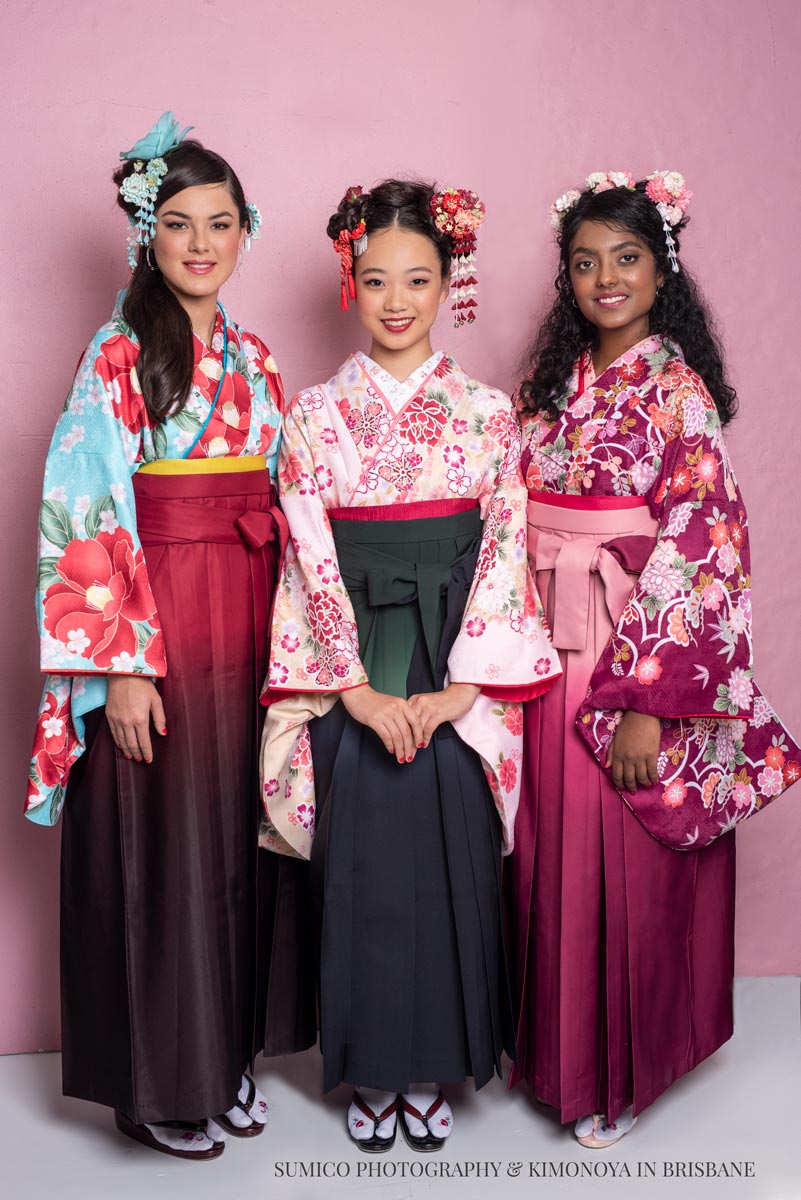 About the Kimono de Gold Coast experience
Kimonoya in Brisbane offers beautiful, traditional Kimono and Hakama for the girls. All are authentic kimonos, which are different from kimono robes or Asian-influenced clothes you see online.  The way you will be fitted with kimono is in the traditional way.  Your daughter will be amazed with the layers of fabrics and strings that need to be wrapped up around her waist.
For an extra cost, The Mother can wear Homongi, while the Father can be fitted with Hakama and Haori set. Your daughter can even be outfitted in the most stunning Furisode kimono for an additional cost.
Whether you have an interest in Japanese culture, or like us, Sumiko and Sachiko, Japan is your homeland, you will know the importance of Coming of Age Day in a young woman's life as she transitions from being a girl at school to a young woman ready to step into the world.
Additional Options: Hakama & Haori, Furisode (upgrade from Hakama), Homongi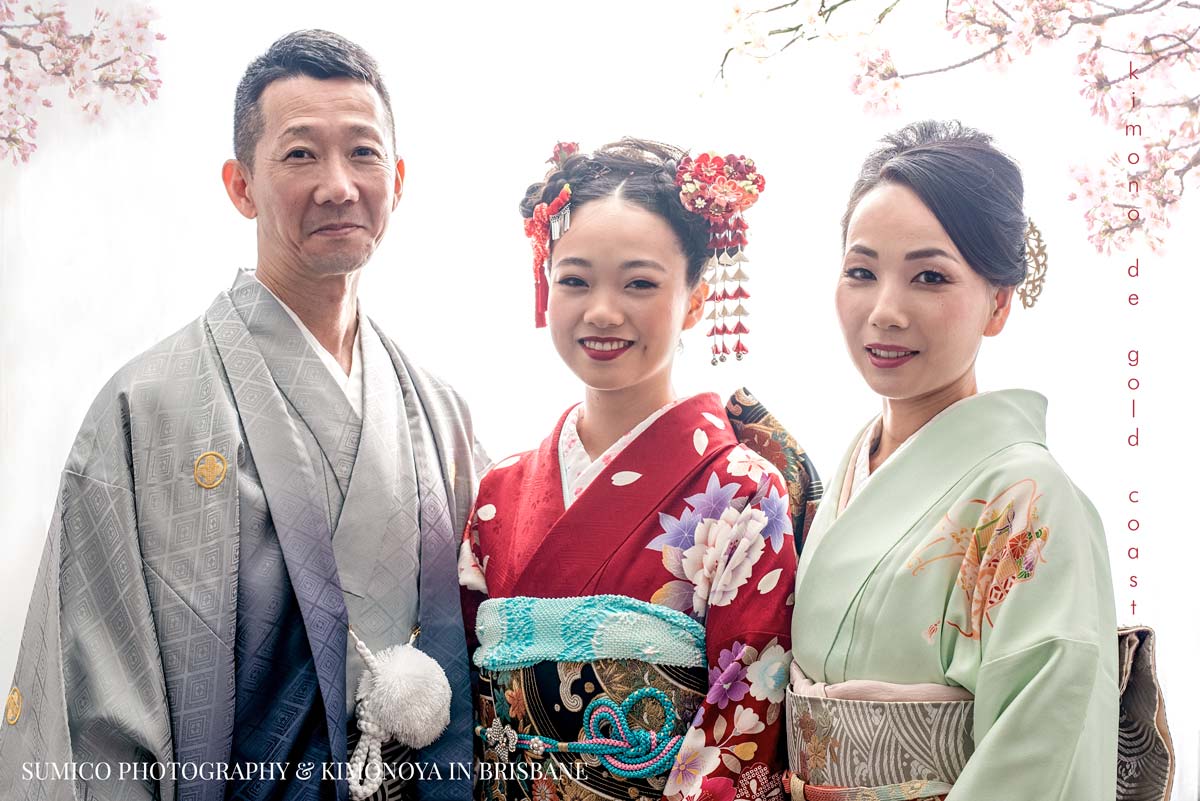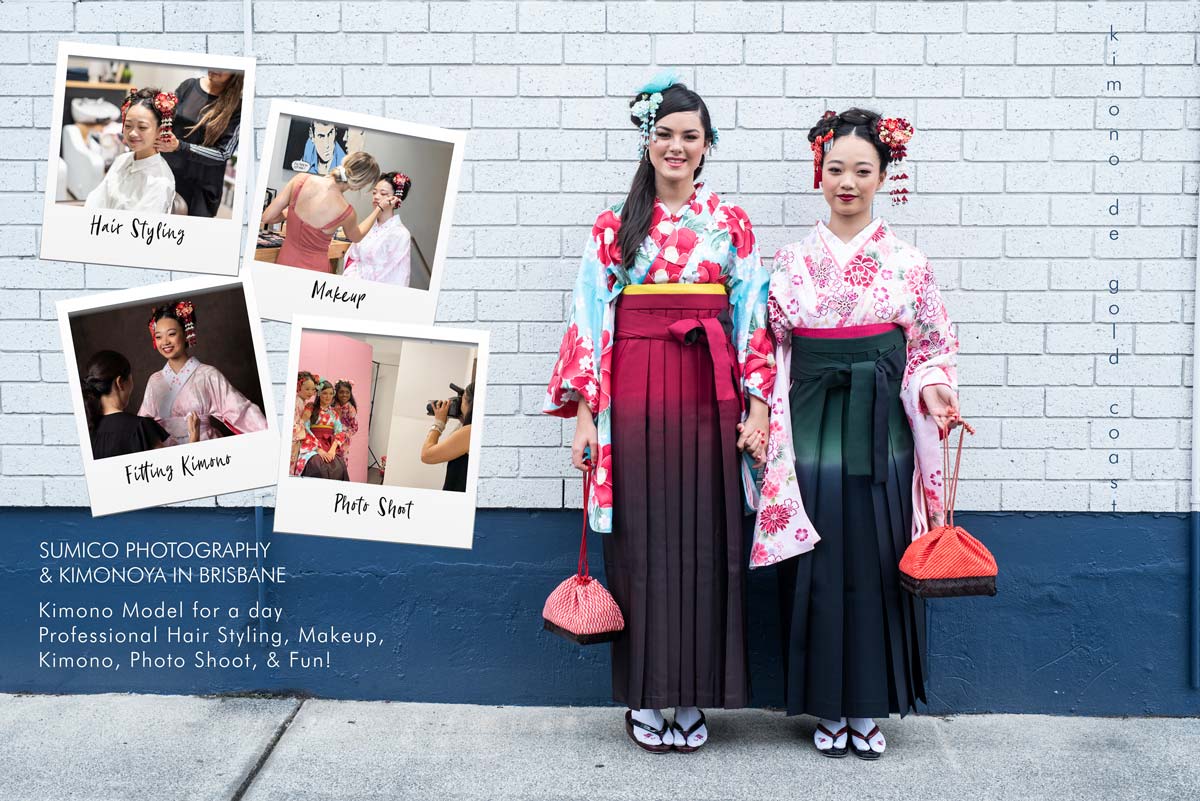 Here's what you receive
Hakama style package
This once-in-a-lifetime photo shoot experience is only available through Sumico Photography and Kimonoya in Brisbane at Main Beach on the Gold Coast.
Your magazine style kimono photo shoot experience includes:
Pre-consultation with Sumiko to discuss how you want to be photographed and what outfits you would like to wear.
Rental of the following: a high-quality kimono for one person (Girl's Hakama Style), a pair of tabi socks, Japanese kimono style slip-on's, hair accessories and a beautiful Japanese umbrella to complete the look.
Fitting and styling of the kimono by professional Japanese kimono stylist Sachiko Hinze from Kimonoya in Brisbane.
Sachiko will stay for the entire photo shoot to ensure the kimono looks perfect in every photo.
An upgrade to Furisode kimono and additional friends or family members' rental kimonos are available at an additional cost.
Professional hair and makeup on the day of the photo shoot for one person. Additional hair and makeup can be arranged for $198 per person.
Fully guided professional photo shoot that you will truly enjoy with Internationally awarded Japanese photographer Sumiko Eyears.
A reviewing session by skype or zoom with Sumiko sharing her screen so you can see all your beautiful photographs.
Three professional prints (7×10 inch with 11×14 inch mounts, ready to be framed.)
Professional frames can be arranged at an additional cost.
Additional photos can be purchased at the reviewing session. Each print comes with its digital file.
Other conditions may apply.
The total cost is $2,200 incl. GST per person (payment plans are available.)
Please note: Furisode takes longer to fit than other kimonos. The package above includes kimono and hakama style. Upgrading to Furisode is available at an extra cost with beautiful colours and patterns available.
Cancellation Policy: greater than 15 days prior to scheduled event date – 100% refund. Less
than 15 days – 50% refund. 7 days or less – 0% refund.)
*If we are unable to reschedule your photoshoot due to Government enforced Covid restrictions then you will receive a full refund.
How to apply
Gift your daughter, her friends or your family an authentic Japanese cultural experience at the beautiful Gold Coast. Complete the form below or contact me, Sumiko Eyears on 0425 261 729. I will email you a beautiful information pack and answer any questions you may have.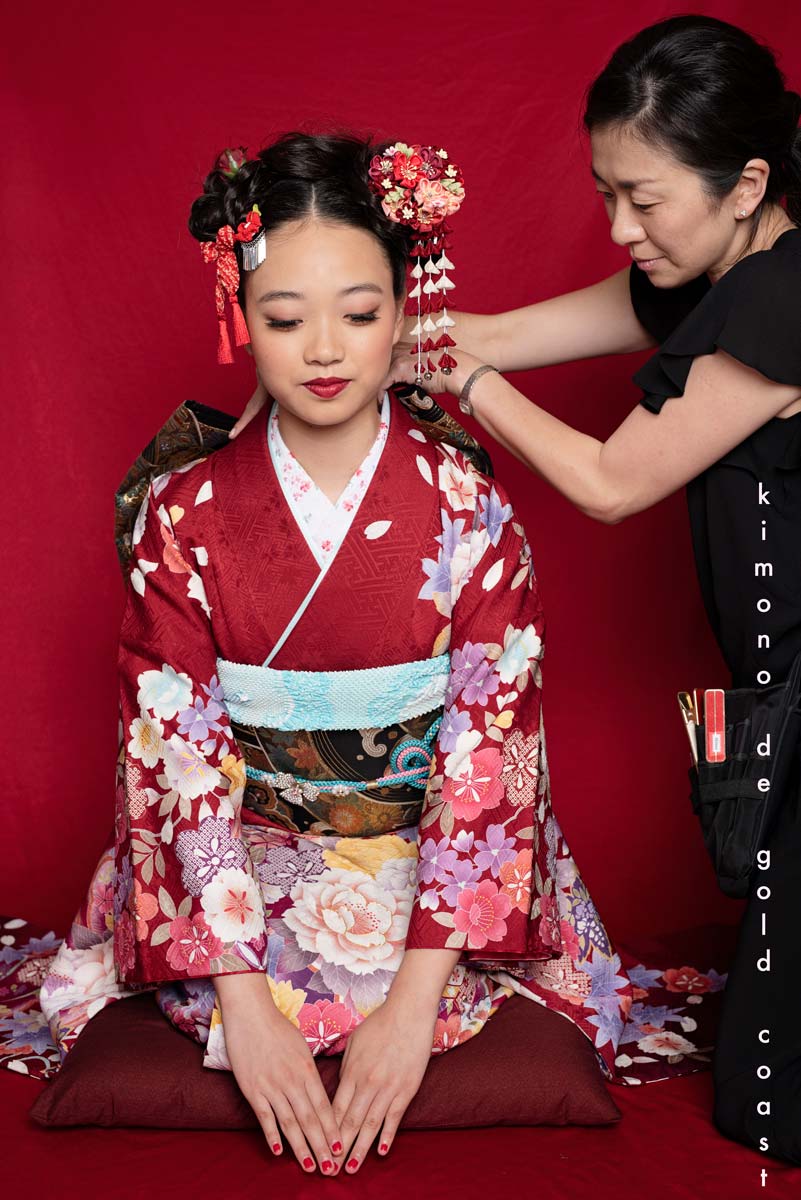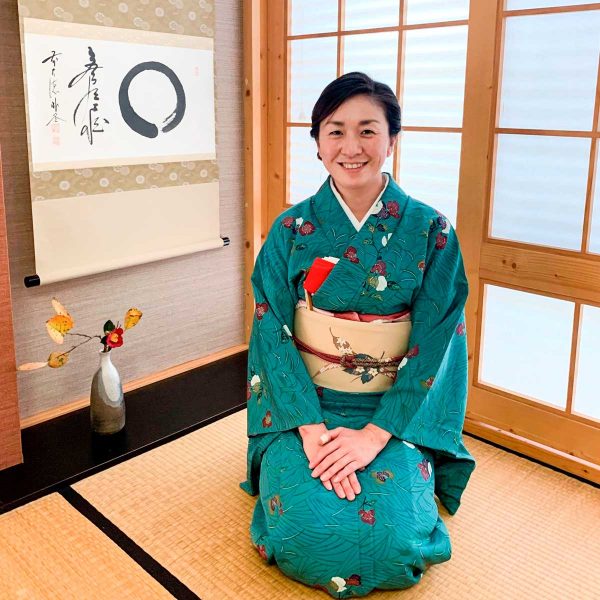 A little about Sachiko Hinze – Kimono Stylist
Introducing the unique beauty of the kimono as a form of art, clothing and fashion is my passion.  Kimonos are a proud aspect of Japanese culture which I would like to introduce to others.  At the same time, sharing my passion for kimonos helps me to feel a connection to where I am from.
I founded Kimonoya in Brisbane in 2014 with the hope that more people in South-east Queensland can enjoy wearing kimonos and know more about kimonos. Starting from fitting kimonos on my customers for outdoor photo shoots in Brisbane, my services have expanded to giving kimono presentations for groups and schools, kimono hire for special occasions, school excursions at the Japanese botanical garden near Mt Coot-tha, and delivering kimono workshops and kimono lessons where students can learn how to wear a kimono by themselves.
It would be my honour to be a part of someone's very memorable day by fitting kimono for a photo shoot with Sumico Photography.
A little about Sumico Eyears – Award winning photographer
From my studio Sumico Photography at Main Beach on the Gold Coast, I work with women of all ages to create professional, magazine style portraits. It's my passion to empower all women through my camera lens, to give them confidence and show them how beautiful they really are. I especially love working with young girls as they are blossoming into young women. They often have no concept of their own beauty. Once they relax and start enjoying their photo shoot, they begin to have fun and their natural beauty shines through.
Many women have told me their portrait session was one of the best experiences of their life. That makes me determined to reach more women (especially young women) and give them the opportunity to see their strength, find their confidence and discover their real beauty.  I am excited to be working with Sachiko of Kimonoya in Brisbane to showcase Japanese culture and beauty. Read more of Sumiko's story
Please also check Teen portrait program, 20 under 20 project.
Share this page