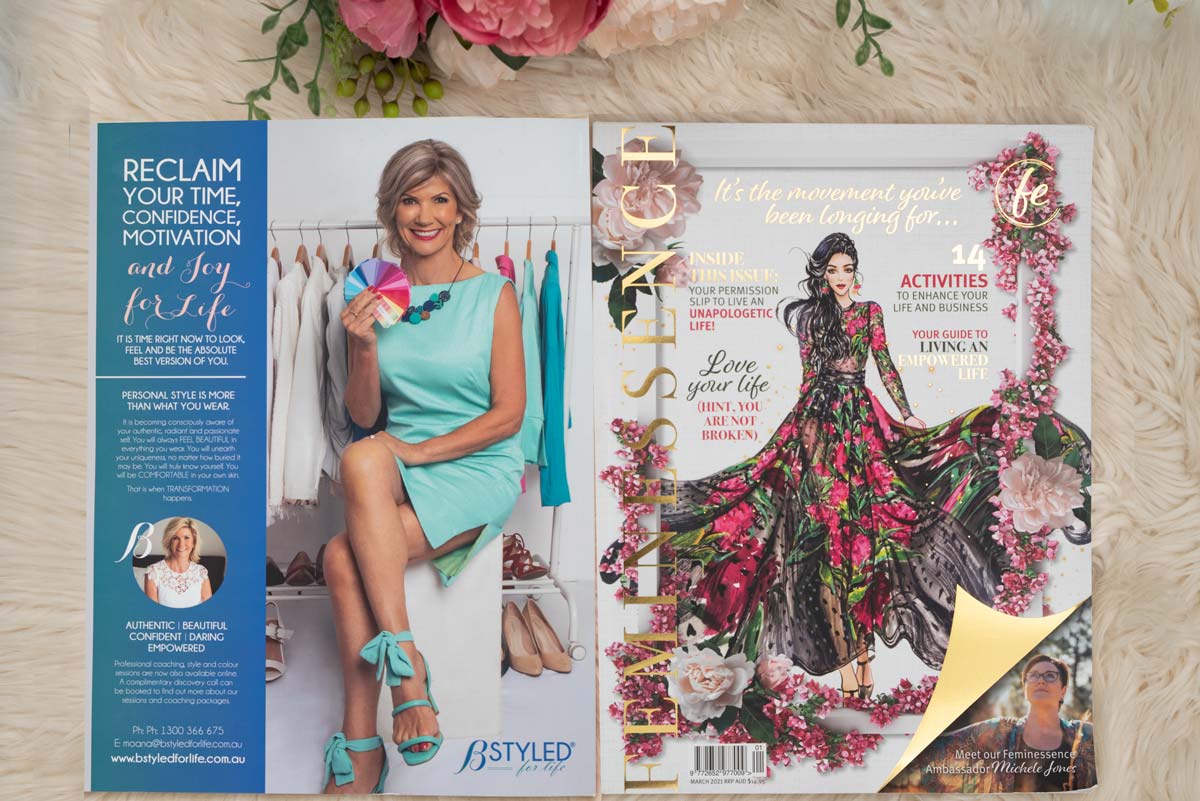 I took the photos of Moana Robinson – a personal stylist, image consultant and life coach of B Styled for Life for her feature in the first edition of Feminessence magazine by Shar Moore.
Feminessence magazine asked Moana to supply the photos of her working and preferably pink background.  We decided to do with white background and added some colours including pink on the rack. She holded her colour swatch with all outfits which are in her colours as a prop. We took photos with horizontal for article and vertical for the ad.
We took photos in different outfits for her business page as well.
On that day, we took photos of her and her fur baby Teddy James, Cavoodle in the studio and also at the beach.   It was fun day.
Moana submitted the photo of her at 60th birthday party which I also have taken photo of her.
Congratulations to Moana for being featured in the beautiful magazine, Feminessence and thank you so much for choosing me as your photographer.  This magazine is so beautiful to look at it and there are many resources in the magazine.   Get your copy at News agencies or order online. https://feminessence.com.au/
If you like to know colours and style which suit you the best, please connect with Moana Robinson.  Her website, B Styled for life is; https://www.bstyledforlife.com.au/
At Sumico Photography, we have experiences for photo shoot for printing materials  magazines, book covers, pull-up banners, business cards, brochures.  We have experiences for profiles for models and create a professional looking comp card to submit the agencies in stylish way.
We provide a complimentary pre photo shoot consultation, we like to provide the best images which elevate your brands to the next level.  Please have a look at the personal branding and headshots page.